Clarkson University Offering New Bachelor's in Data Science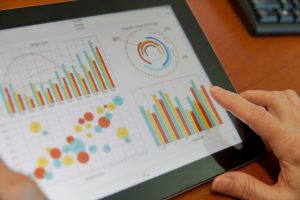 Across business, industry, government, and nearly all scientific efforts, the explosion of data drives a growing need to manage, analyze, and extract insight and knowledge from that data. Clarkson University's new Bachelor of Science degree in Data Science provides students the opportunity to develop an interdisciplinary, data-focused skillset and apply those skills to real-world challenges.
"The Data Science program at Clarkson has been designed from a science perspective, building the deep understanding which enables our students to evolve with this rapidly changing field," said Mathematics Chair Joseph Skufca. "Students will tackle authentic application problems that are both practical and exciting, consistent with Clarkson's tradition of delivering innovative thinkers who impact today's world immediately upon graduation."
The program provides balanced preparation in mathematics, statistics, computer science, and data processing. Students are expected to apply those skills in specific topics of interest to them, with a significant component of the curriculum based on team projects and hands-on learning.
The National Academy of Science, Engineering, and Medicine (NASEM) has identified this emerging discipline of Data Science as a critical enabler for tackling many of the world's most important problems.
"You would be hard pressed to find a company that is not looking to hire expertise in the area of data science," said Skufca. "It is a critical skill for future success in nearly every industry."
The Data Science program consists of 35 credit hours in mathematics and statistics, 6 credit hours in a specially designated "Data Science" course and 6 credits of application electives, along with 22 credit hours in computer science and information systems. The program maintains flexibility with 24 credit hours of free electives.
The Data Science program was officially approved by the New York State Department of Education (NYSED) in July, and the program will be ramping up over the next academic year. The first full cohort for this new major will be admitted in the fall of 2019 as a member of Clarkson's Class of 2023.
Clarkson University educates the leaders of the global economy. One in five alumni already leads as an owner, CEO, VP or equivalent senior executive of a company. With its main campus located in Potsdam, New York, and additional graduate program and research facilities in the Capital Region and Beacon, N.Y., Clarkson is a nationally recognized research university with signature areas of academic excellence and research directed toward the world's pressing issues. Through more than 50 rigorous programs of study in engineering, business, arts, education, sciences and the health professions, the entire learning-living community spans boundaries across disciplines, nations, and cultures to build powers of observation, challenge the status quo and connect discovery and innovation with enterprise.
The post Clarkson University Offering New Bachelor's in Data Science appeared first on Capital Region Chamber.