Truly Yours Custom Framing Cuts the Ceremonial Ribbon in Glenville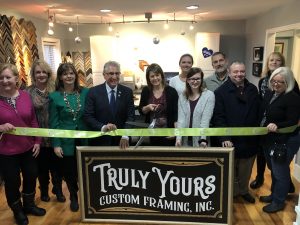 The Chamber was joined by local elected officials, local business owners, Ambassadors, family and friends to congratulate Brenda Soucy on her new venture with Truly Yours Custom Framing.
After more than a decade of working as an accountant, Brenda Soucy was longing for change in order to find more balance between work and home, to have the opportunity to be creative, and to actively engage with people. She finds helping people preserve their cherished memories, photos, achievements and beautiful artwork to be very rewarding. Customers come with items to be framed, sometimes with a vision of what they want and sometimes needing creative inspiration or advice on how to best preserve their items to last for many years to come. Having worked alongside her husband, Kevin, since late 2000 helping him in his custom framing business, Brenda decided to open a new frame shop in a busier area.
Burnt Hills turned out to be the right location after searching for months throughout the Capital Region. This small town on Route 50 just felt like the ideal place, as a well-traveled busy route, while still maintaining a country feel.
Truly Yours Custom Framing, Inc. is a full-service custom framing shop, offering a wide variety of options. Nothing but acid-free, top quality, archival products are used in the framing of your projects, but Brenda and Kevin are sensitive to the potential consideration of the costs of having something custom framed. Not all framing projects have to be expensive to be a treasured finished piece. There are a few variables that determine price, one of the biggest being frame and glass choices. There are so many affordable, yet beautiful framing options. They will help you find the right fit for your needs. Potential customers are encouraged to come and just explore what the options might be. Time can be spent looking at different ideas and possibilities to get a price quote with no obligation.
Something that sets the Truly Yours Custom Framing, Inc experience apart is the creative touch and personalization clients are offered with the utilization of a computerized mat cutter and image and font designing crafting tools. The shop also offers custom mirrors and has a wide array of affordable framed prints that are in stock, ready for you to hang and enjoy.
The post Truly Yours Custom Framing Cuts the Ceremonial Ribbon in Glenville appeared first on Capital Region Chamber.