News – Capital Region Chamber 2020-01-23 16:43:01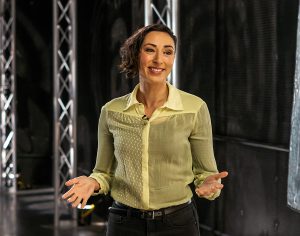 WMHT Public Media welcomes Skidmore College's Lara Ayad, professor of African art history, as host of AHA! A House for Arts. Since 2014, AHA! has shared the stories of the region's arts and culture venues, organizations, and  individual artisans on television and online.
Ayad's research and work have taken her all around the globe. She has co-organized a conference panel in Ghana and scoured the art and ethnography collections of old science museums in Cairo. Lara recently won a prize for an essay on masculinity in 20th century Egyptian painting and currently teaches courses on the history of art, photography, and travel in Africa.
"I am beyond thrilled to host AHA! with WMHT," notes Ayad. "It's exciting to share all of the amazing arts and culture happenings in the region with our audience."
"Lara brings immense expertise and fascinating insight to AHA! She is a wonderful addition to the program," says Producer Matthew Rogowicz.
Ayad makes her debut on AHA! A House for Arts on Wednesday, February 12 at 7:30pm on WMHT-TV and streaming on WMHT's Facebook page (facebook.com/PublicMediaWMHT). The episode features a behind-the-scenes look at Liveware, a performance group at Rensselaer Polytechnic Institute's EMPAC, an interview with Silvia Ruzanka, Senior Lecturer at RPI's Department of Arts, and a performance by Girl Blue, winner of the inaugural "Eddie," Capital Region Thomas Edison Music Award, for best solo artist.
New episodes of AHA! premiere Wednesdays at 7:30pm on WMHT-TV and WMHT's Facebook page and are also available streaming online at wmht.org/aha and via the PBS App (wmht.org/anywhere).
Funding for AHA! A House for Arts is provided by M&T Bank and by contributions to the WMHT Venture Fund. Contributors include the Leo Cox Beach Philanthropic Foundation, Chet and Karen Opalka, Robert and Doris Fischer Malesardi, The Alexander and Marjorie Hover Foundation, and The Robison Family Foundation.
The post appeared first on Capital Region Chamber.