Northwestern Mutual – Capital Region Announces Expansion for 2020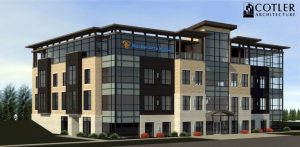 Northwestern Mutual in the Capital Region will be merging its Latham and Albany offices into one new convenient location, now being constructed near Albany International Airport. The new building is part of the company's growth strategy and ongoing commitment to provide its clients exceptional service.
This initiative will create additional space for their continually growing team of advisors and staff. Over the coming year, the company plans to attract 50 new advisors as well as cultivate new talent through its successful internship program, which ranks as one of Vault's Best Financial Services Internships and Top 10 Internships for Career Development*.
"Merging our two locations will streamline our efforts in servicing our clients, as we help them live a life by design," said Alex Tronco, Managing Partner. "The additional space also provides opportunity to build upon our dynamic, supportive culture and offer more benefits to our employees, such as a gym and yoga room. We want to provide motivation and inspire those working with us to achieve their fullest potential."
As a company that has been serving the Capital Region for 130 years, Tronco purposely sought out local contractors and companies to work on the new site to support the local economy. "We are only as strong as the communities we live and work in," said Tronco.
The building is planned to open in late 2020 and is located off Albany Shaker Road, using the existing entrance to Shaker Ridge Country Club and the Hilton Garden Inn Albany Airport. A new access road will be created and named Northwestern Boulevard.
*Vault Guide to Top Internships, 2020 Edition
The post Northwestern Mutual – Capital Region Announces Expansion for 2020 appeared first on Capital Region Chamber.